Today, advancements in materials and manufacturing processes make it possible to fabricate a panel of aluminum, copper, acrylic, wood, or steel with a pattern quickly and cost-effectively. Referred to as a decorative perforated panel, this option for bringing pattern into an architectural space is created by cutting and removing shapes from a solid sheet or plate of material. The resulting panel not only contains a visually interesting pattern, the open cut-outs also invite daylight and airflow into the experience as well.
These panels, if designed for structural integrity, can be applied as overhead shade, architectural privacy screens, ornamental metalwork, interior surfaces, gates, and railings, along with exterior façades for a building's envelope as either a brise soleil or rainscreen. The ultimate success of incorporating these architectural panels with patterned openings into a project space starts with selecting the right type of pattern for the design intent and use of the installation.
Selecting the right type of pattern requires designers to think beyond the aesthetic impact that a pattern can inspire to additionally consider the functional performance of pattern in the visual space. That discussion begins with taking a closer look at patterns and exploring the concept of a Pattern Map.
Created by Parasoleil's founder and sculptor, Uriah Bueller, the map evaluates a pattern on two key elements: structure and nature. Not only are these two characteristics discernible in every pattern, but these two elements materially affect how a person recognizes and responds to a pattern and should be considered when selecting a pattern that will help to achieve the overall objectives of the design.
The Pattern Map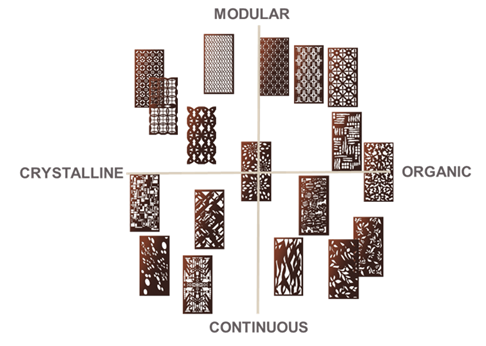 Hemispheres of the Pattern Map
As seen above on the Pattern Map, there are two spectrums upon which every pattern sits.
All patterns share two hemispheres of the Pattern Map, giving each pattern a clear location in a specific quadrant of the Pattern Map as well as a clear best use for each project. A pattern may be Modular-Crystalline or Modular-Organic, or it can be Continuous-Crystalline or Continuous-Organic.
CRYSTALLINE patterns are more consistent with the existing architectural language. They tend to become part of the form. They can fight with the architecture or pull a dysfunctional form into a more appreciated and usable structure.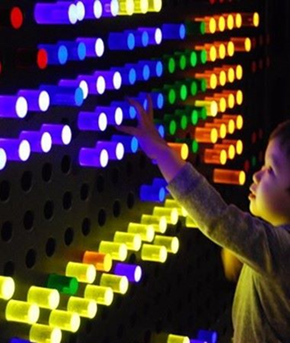 ORGANIC patterns are more complex. Like a tree, they can stand alone as its own form or complement the existing architecture without having to be expressed with the same language. These patterns are versatile, decorative, and often add an approachable element to an installation.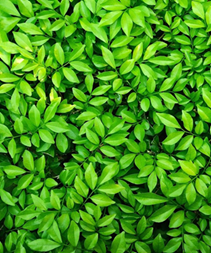 MODULAR patterns have predictable, repeated elements. This can range from an exact shape repeated many times to a block or grouped design that is repeated. The more repetitions, the more modular the pattern will be. Modular can also refer to a predictable size of shape (solid or open) in the pattern. Since Modular patterns are predictable, so are the considerations for safety and privacy.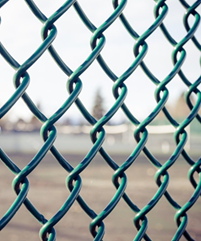 CONTINUOUS patterns are quite different from one end of the pattern to the other. They are unpredictable and hard to ignore. Because our eye will focus on continuous patterns longer, they should be considered for applications where hiding, camouflaging, or privacy is needed. Keep in mind that large installations of the same continuous pattern will become modular when seen as an entire array.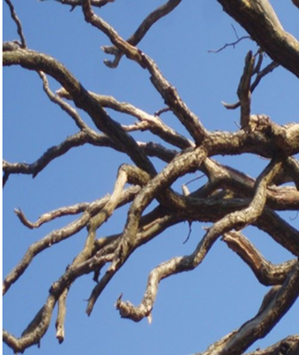 FRACTAL patterns often share qualities of all four quadrants. We can see examples of fractal patterns through nature, from the growth of the microscopic bacteria to the expansion of the universe. These patterns tend to be Modular in structure but change in how that structure progresses over the full pattern. They often have simple shapes that create a complex flow of forms seen in the overall layout of the repeated elements.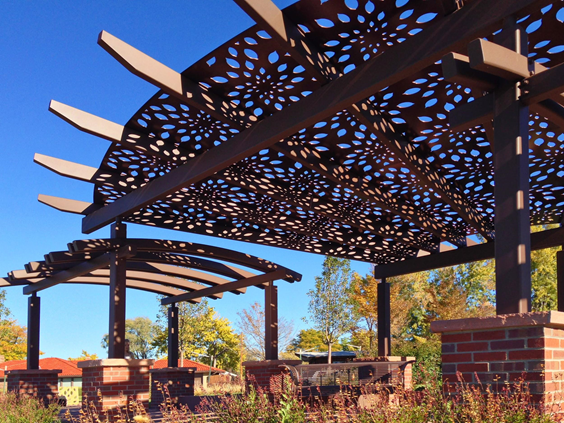 A MESH approach to pattern combines two sets of pattern classifications. This example shows a MESH between a Continuous-Organic pattern with a Modular-Organic pattern. Your eye focuses on the Continuous elements of the pattern because the Modular elements are quickly interpreted by your mind and tend to disappear from your focal point.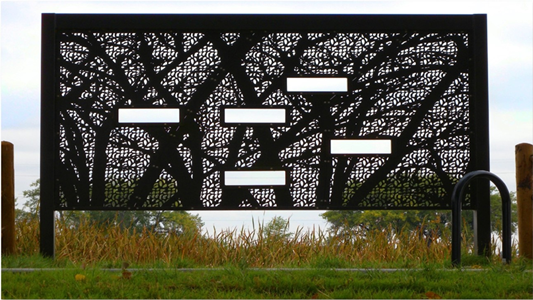 Pattern Mapping allows for a common language between designers and developers as well as architects and manufacturers. They give us the tools to discuss which patterns work best to achieve the intended use of each space, both aesthetically and functionally. Bueller finds that there is much more to developing patterns for the built environment than what is aesthetically pleasing. Parasoleil designers continue to study pattern as it relates to structural integrity, and how people interact with places that use pattern to filter light and frame space.
Learn more about the Pattern Map:

CEU | Pattern Mapping for Lasting Design
Article | Mapping Patterns: Aesthetic Differences for Specific Functions
Article | What Patterns Can Teach Us