A 400-Square-Foot House in Austin Packed with Big Ideas
Would you ever—perhaps the right question is, could you ever—live in a home that's just 400 square feet? For Austin, Texas–based interior designer Kim Lewis, the current movement toward micro dwellings has enormous appeal. "I definitely see it as a reflection of the housing industry—the desire to better find a way to live within your means," says Lewis, who has also worked on high-profile interiors for the Hollywood set (see our recent story on actress Tiffani Thiessen's home). "It also represents a free-spirited philosophy; many young couples want or need the flexibility to travel or to live in multiple destinations. This style of living allows for that." Which was exactly the case for homeowners Aaron and Meredith, who were moving from Colorado to Austin with their two rescue dogs, Olive and Zoe, to open a second location of their urban winery. See how their 400-square-foot home came together on this episode of FX's Tiny House Nation, and read on for small-space living tips from Kim Lewis's inspired design.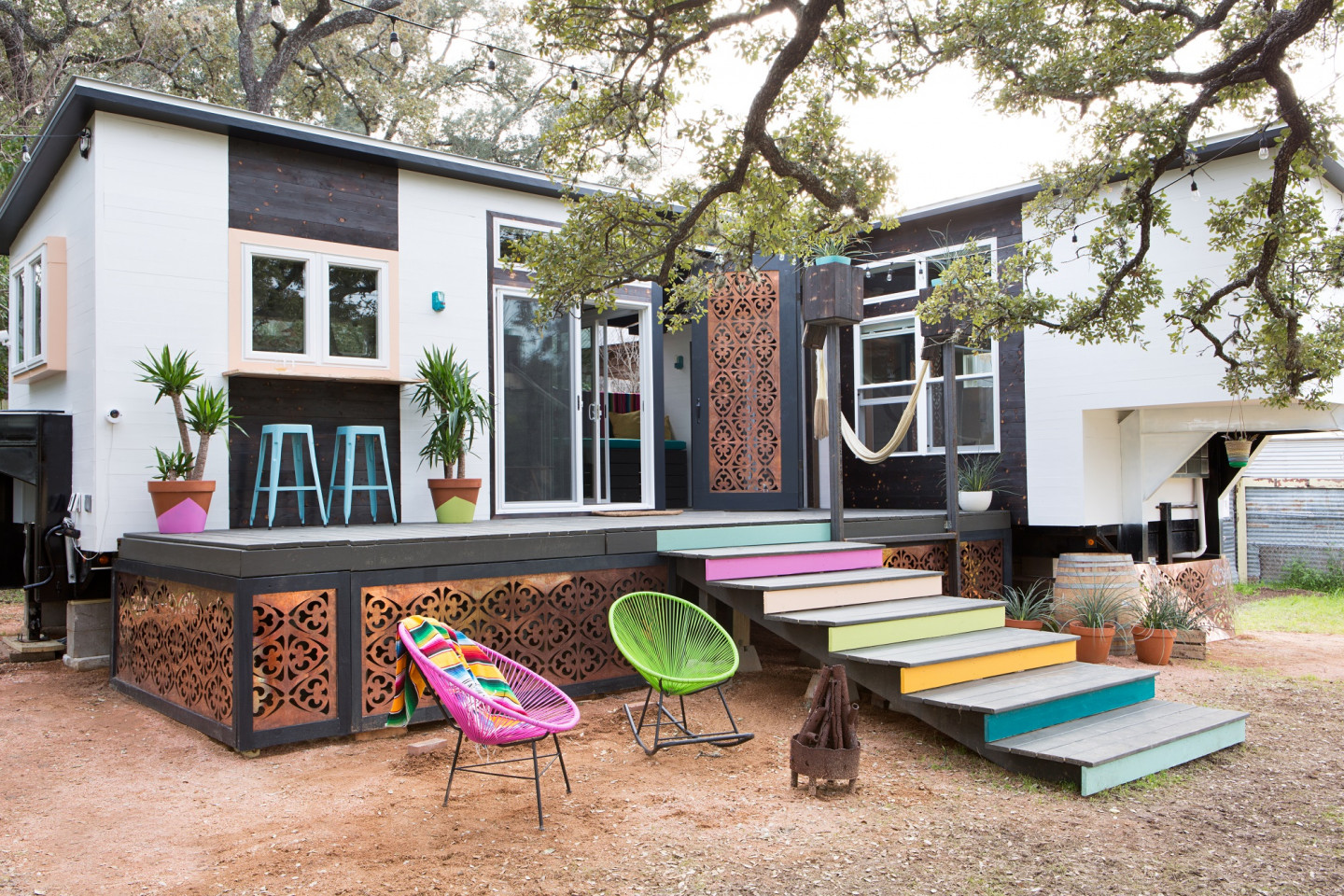 "Clean lines, rich textures, bold colors" was the couple's request for their new residence, which was built on two trailers connected by a covered breezeway. Lewis drew up the layout to maximize Aaron and Meredith's other primary desire: as much entertaining space as possible. "The challenge is, you're trying to put a lot in a little box and make it functional, livable, and stylish," says the designer, a veteran of several popular television productions. "I drew McMansions on Extreme Makeover every day—it's so much easier to fit things into larger spaces. But then you realize you really don't need as much as you think."
THE KITCHEN
"Aaron was very adamant about the kitchen not being bulky, with lots of appliances," Lewis says. Two low-profile refrigerator drawers provided one ingenious solution: they supply as much storage as a standard refrigerator while freeing up added space for a countertop. Another important consideration was the weight of the materials themselves. "Because these homes are going to be mobile, things like granite and heavy hardwoods don't work well—they would make the house too heavy to pull with a regular truck driver's license," Lewis explains. "So while we used Silestone countertops along the back wall, the island is topped with wood so it's lighter."
THE FINISHES
Even a color-loving designer like Lewis knows when to stay disciplined. "Generally, I would say that when it comes to tiny homes, you want to minimize color on the inside. I like to use textiles and smaller elements to pull color in," she says. The installation of dramatic black wall tile in the kitchen led to the decision to paint the ceiling in the same hue: "There's a misconception that dark colors make a space seem smaller. But this had the opposite effect—it elongated the trailer." Open kitchen shelving suspended from leather straps becomes a sleek, high-contrast feature that also stays true to the couple's midcentury-leaning aesthetic. And the flooring, which was salvaged from a 1960s Austin home, serves to underscore that aesthetic.
In keeping with the overall "Midcentury meets Marfa" vibe—a reflection of Aaron's streamlined tastes and Meredith's more bohemian design preferences—the bedroom is decorated with Guatemalan textiles that pop against the wood floors and white walls. The couple's Eames Shell Chair serves as a handy bedside reading nook; sliding doors and multiple windows make the space feel airy and bright.
THE BATHROOM
Perforated-copper panels from Parasoleil were an important design element both inside and outside the home. (Lewis also used them to create a pergola ceiling at the home of one of her celebrity clients, the singer/songwriter Jewel.) Here, they're installed on track to create barn-style doors for the couple's smartly configured bathroom, which features a cheery message spelled out in floor tile. Next to the bathroom, part of the ceiling was repurposed for a cubby area to store the couple's camping and fishing gear.
THE CLOSET
One of the most innovative parts of the entire design is Lewis's decision to build a storage area on a platform over the trailer's gooseneck. "We used pipe fittings to make a little perpendicular ladder—and now they basically have a walk-in closet," says Lewis. There's even a combination washer-dryer for added efficiency.
THE OUTDOOR ENTERTAINING AREA
Extra-wide steps, a covered breezeway complete with ceiling fan and doggie beds under a padded bench, and a pass-through bar area are just a few of the fun surprises of the exterior. The showstopper might just be the hammock suspended between the two built-in planter stands. Vibrant, modern, and infused with a spirit of adventure: this tiny Austin home is much more than the sum of its parts.