The New Project Creator Platform Offers Users a Custom Experience
When it comes to decorative panels for shade, screening, railing, and cladding, creative professionals and homeowners alike turn to Parasoleil. Our unique line of architectural metal panels that filter and sculpt light are specially engineered to withstand the elements, while adorning a space with beautiful artistry. Hotels, casinos, schools, restaurants, and private residences integrate Parasoleil panels into their architecture, and prize the products for their durability, utility, and elegance. And now with the launch of our Project Creator platform, we've made it even easier to customize, and specify or order, Parasoleil panels.
The Project Creator platform is an online tool that allows building professionals and design enthusiasts to create their own customized metal panels. By empowering users to create their own designs, Parasoleil eliminates the need for a design department consultation. Users can quickly and easily configure their panel layout with structural guidance, customize their chosen pattern, select a finish, and determine which attachment method is best. The result is a highly personalized and unique product that can serve as a form of individual artistic expression.
We've developed the Project Creator platform to provide an effortless and satisfying user experience. Simply visit our website and "Get Started" to create panels that are perfect for your project and specific needs. And even better, our platform also provides an instant quote for the cost of the panels and hardware, as well as shipping charges. The Project Creator facilitates instant building and ordering, reducing lead time and allowing for faster project completion.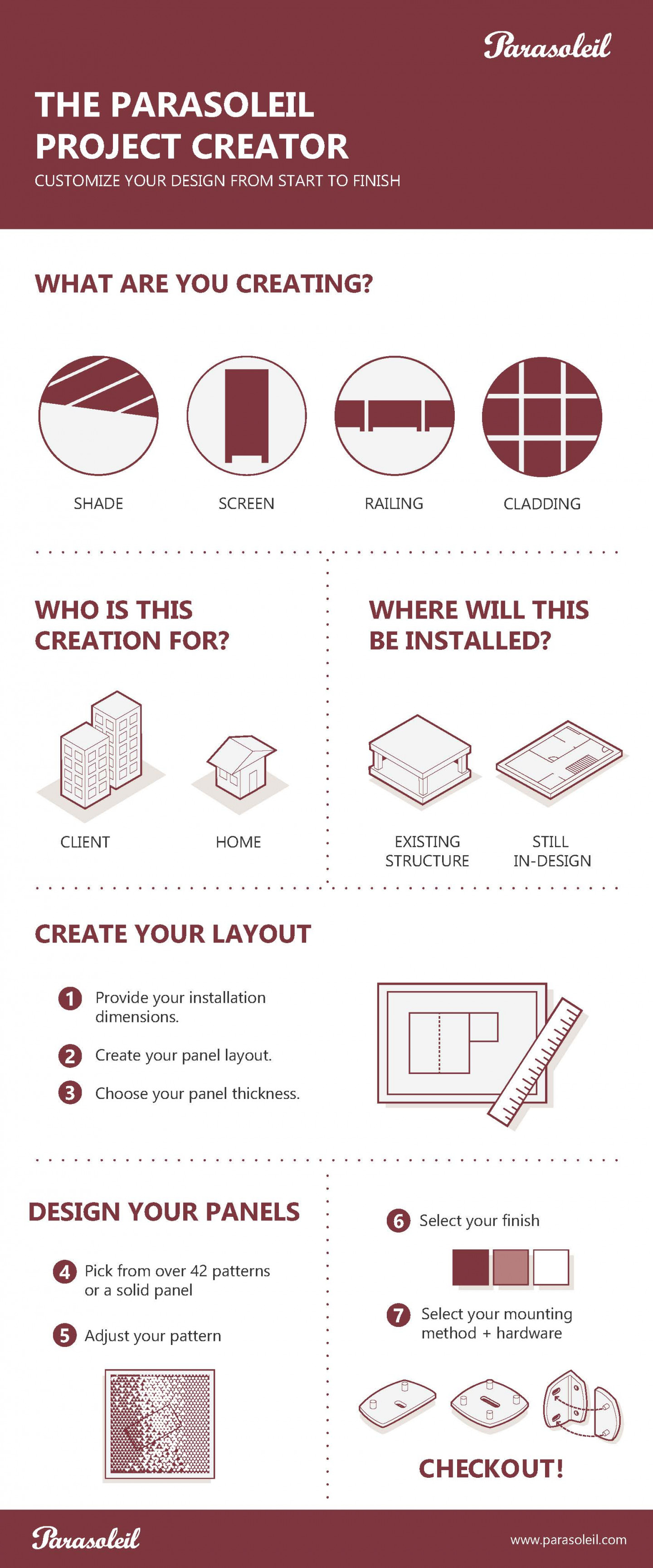 Whether you are looking for a panel solution to shade specific architectural spaces, or you are seeking to create visual breaks, barriers, or privacy, Parasoleil offers infinite options to fit your particular application. A growing number of designers are employing metal panels for use as accent walls, or integrating them with other façade materials such as masonry, composite laminate, fiber cement, and terracotta to create a striking aesthetic. And these versatile products offer options in color, texture, patterns, and direction, providing end-users with a truly one-of-a-kind and functional piece of art.
The Project Creator is the only system that gives users the ability to create the metal panels that are right for them. The platform offers structural guidance for architects and designers, and can be used as a specifying tool for architects designing larger projects that include panel structures. This easy-to-use online tool provides maximum customization and fast order turnaround so users can quickly enjoy the beauty and utility of Parasoleil panels.
Reveal your inner artist by exploring the Project Creator today!