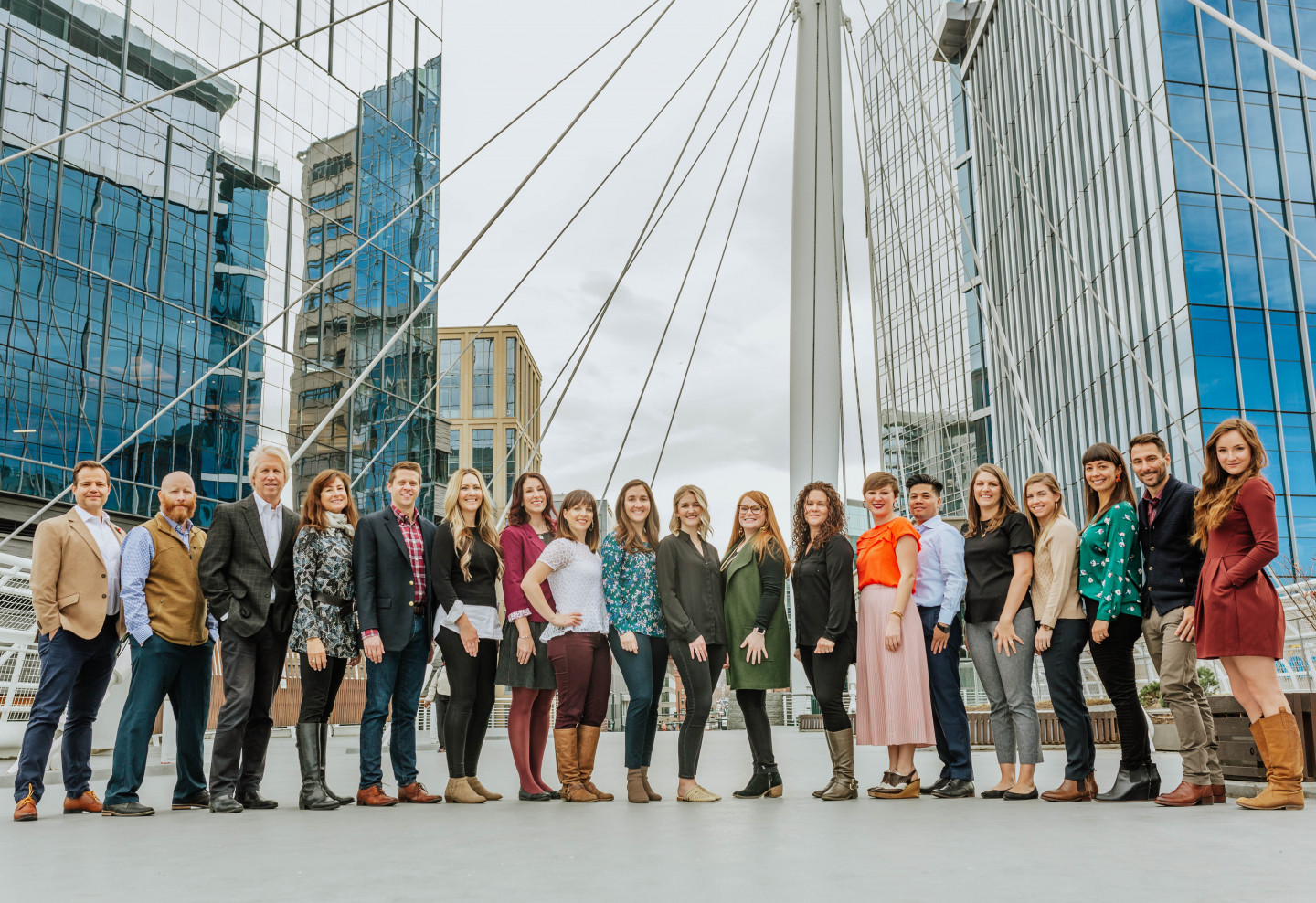 Acquilano Interior Architecture is a Denver-based interior architecture firm whose workplace strategists act as the incubators of culture, transforming spaces into dynamic, effective environments where people love to work. The firm turns 35 this year (2021) and is celebrating their many decades of sustained success as a women-owned business focusing on corporate interiors. Staying true to their mantra of "we listen, then create." Their approach toward design starts with listening to their client's needs and responding with specific solutions that are uniquely tailored to the end-user's needs. The outcome are vibrant spaces that represent the fascinating people and companies they host. Acquilano serves a variety of commercial clients along Colorado's Front Range seeking exceptional interiors; they too are the Denver member of ONE Global Design – a worldwide consortium of best-in-class firms for each major market.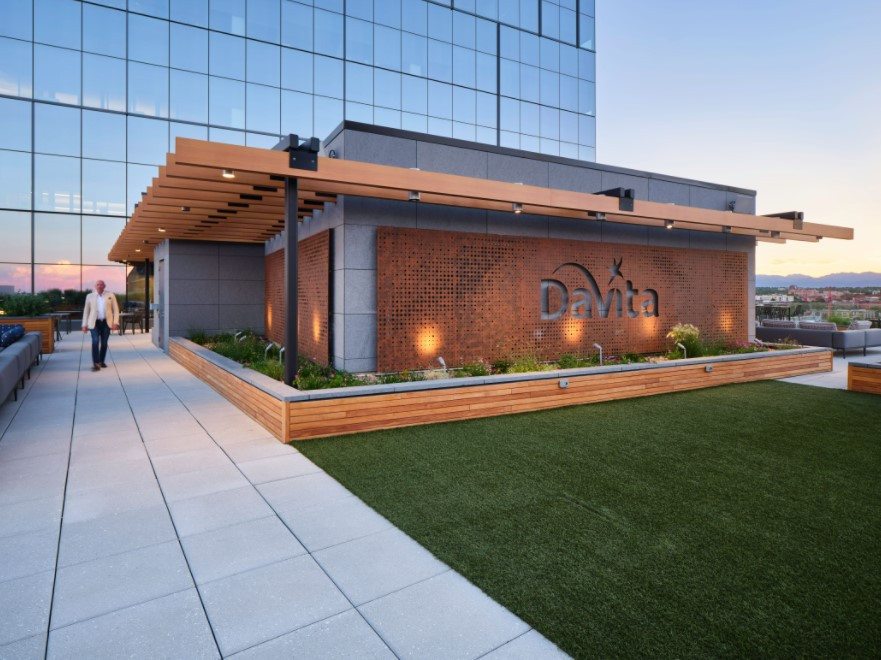 Acquilano, who partnered to win DaVita's commission in 2009 for its initial WHQ building, was retained for the interiors of a second tower project in 2015 for another 365,000 SF of interiors located across the street at 16 Chestnut. It was there that Parasoleil was introduced to DaVita when they proposed a branded rooftop screen element that would punctuate the amenities rooftop destination.
Drew Marlow, Principal at Acquilano, commented,
"This product was a win-win! Parasoleil's aluminum product offered a durable powder-coat finish suitable for Colorado's bleaching sun, it didn't weep staining rust, it was light-weight by nature, customizable, and it was locally produced! We're always seeking to find a product that meets the needs of the application, aesthetic, and the client's mission. When you can, it's a beautiful thing!"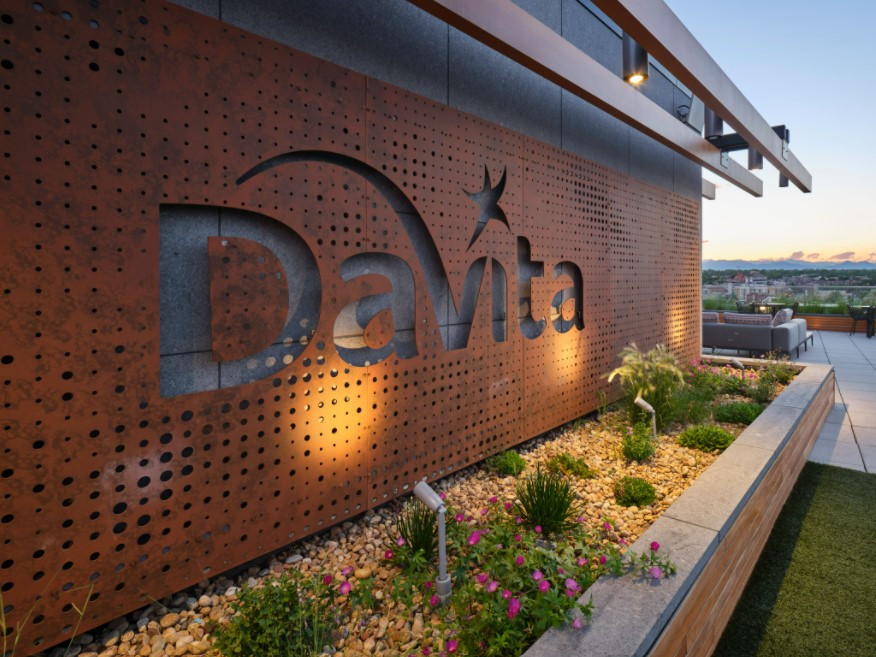 The layered screen material provided the perfect backdrop where sweeping views of downtown Denver calls the occupants out for a respite on the roof to enjoy the cool evenings of the mile high city.
Upon completion, the Acquilano team consisting of Kendra Brodkorb, Eky Kosiyasthit, and Lauren Curry, turned their focus back to Tower I. After a decade of use and having raised the standard next door, the design team was tasked with remodeling the entire ground floor.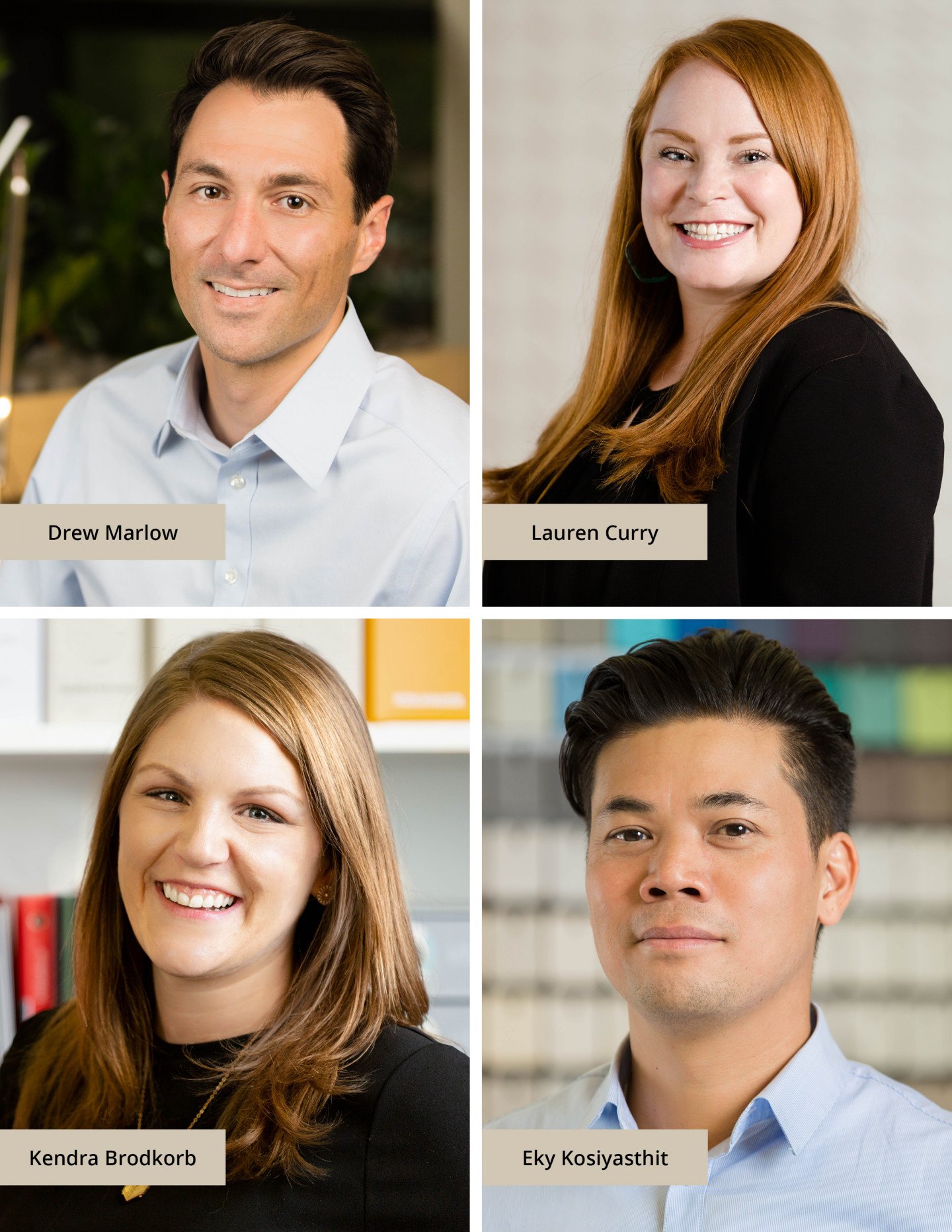 The existing lobby corridor was a 'visual gauntlet'; it was poorly lit and too many graphics vied for hierarchy. The client's ask was to refresh the space with new functions and to provide an aesthetic that fit within the campus' updated design language. Acquilano set out to compliment the success next door, without replicating it. This space needed its own impact moment, and the design team drew inspiration from its sister building to satisfy.
Initially, a lobby water feature idea was near the top of the list but was quickly dismissed due to maintenance challenges – another idea was a projection wall, but again, maybe exhausted in lobbies – they needed something that evoked emotion, something singular, a fun experience – and so they called Parasoleil with a concept in mind.
With a tight budget, a short timeline, and a very creative mindset, the team got to work on a branded, gallery wall utilizing lenticular perforations that created two separate images depending on the direction one approached the wall. Using the long narrow galley shape to their advantage, this provided interaction, movement, and evokes surprise and delight to the passerby.
Parasoleil worked tirelessly to bring this vision to life, stretching our manufacturing capabilities, pushing the limits of our machines and assembly technicians that resulted in a never before created, true piece of art.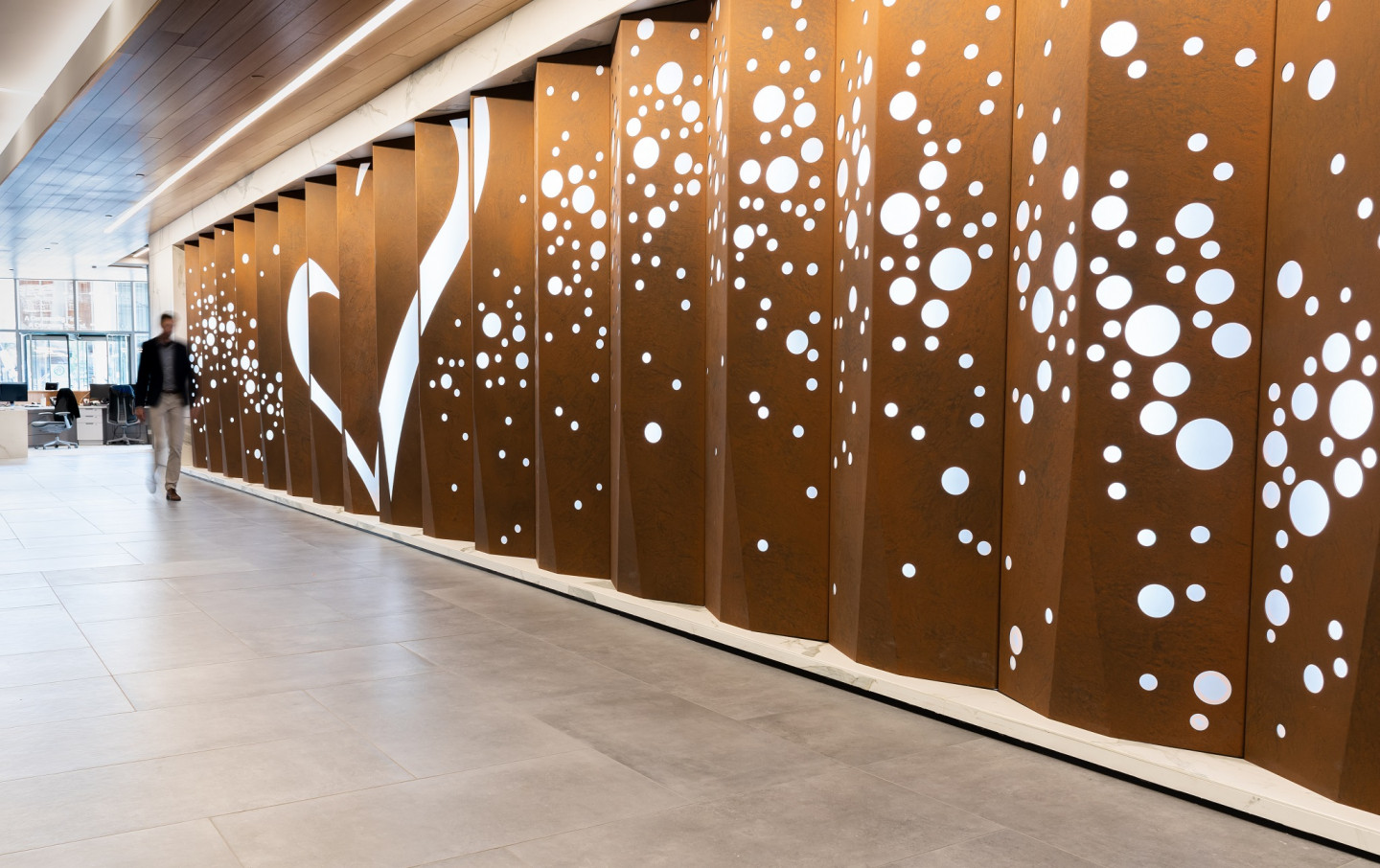 "We had no doubt that we had the right people on the team, we really needed [Uriah's] attention on this one and he came through", says Drew – and it really did take the whole team to make this project happen.
With the gallery wall in place, Acquilano borrowed some of the texture of the unique COR-11 finish to add to the coffee bar up front and again at the canted wall paneling in the back fireplace lounge to tie these spaces together.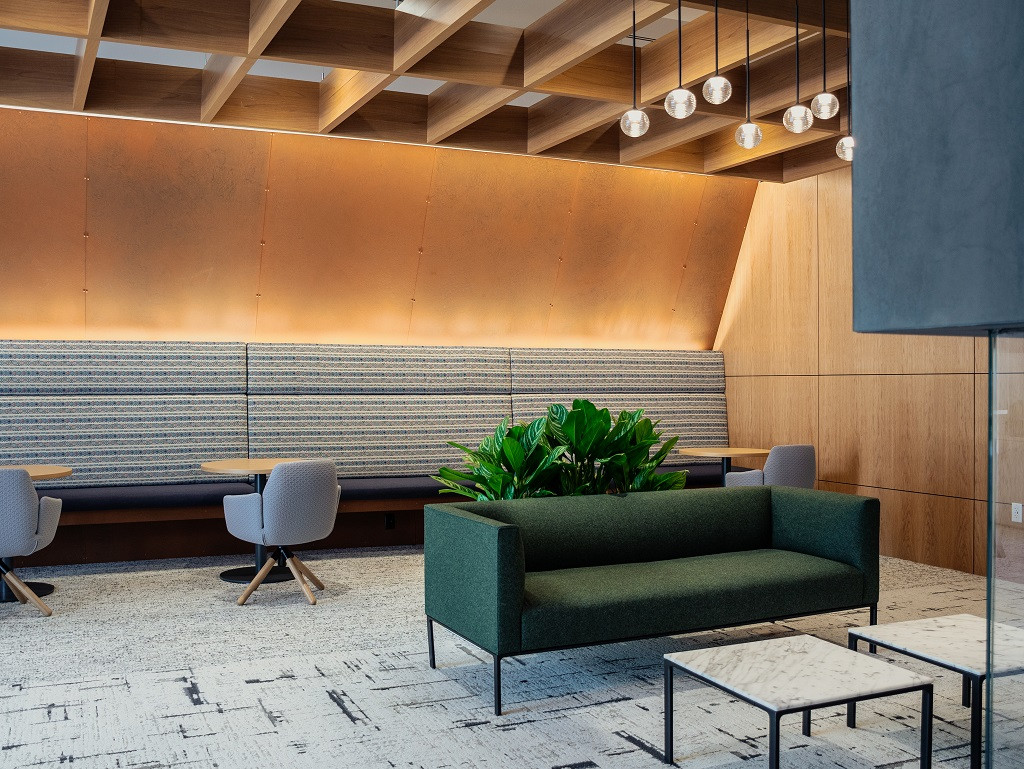 We have been grateful here at Parasoleil for every opportunity to partner with Acquilano in their mission to listen and create for their clients. Shared values, shared vision, and shared excellence ensures shared success, of which we look forward to more! Keep your eyes peeled for our next collaboration!